Heat Map and Coverage Hole Visualization
for Wi-Fi performance analysis and optimization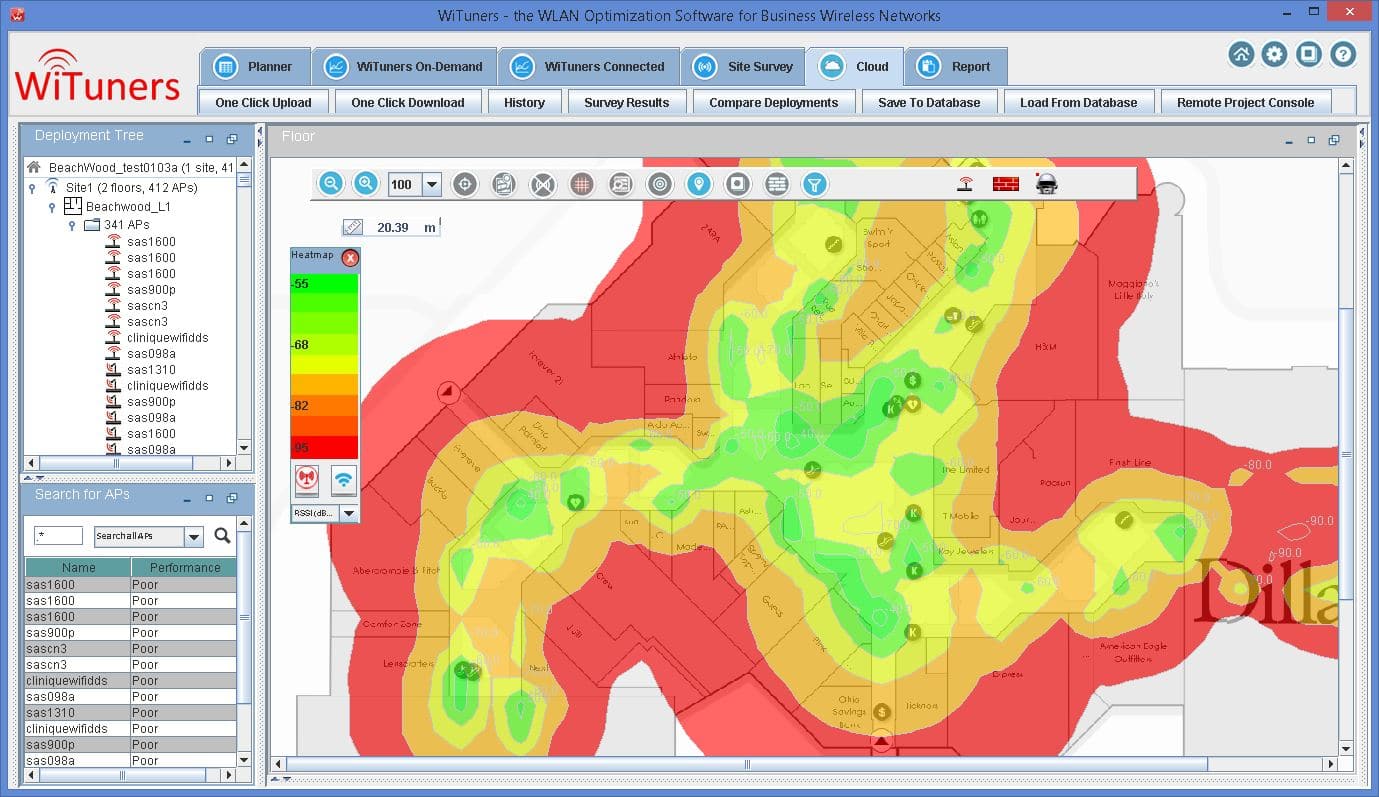 This WiFi Planning Software's Unique Capabilities Enable Wi-Fi Companies to Plan WLANs
Easier, Faster and Better
Technology Background
Not all Wi-Fi deployment plans are created equal, only the best serve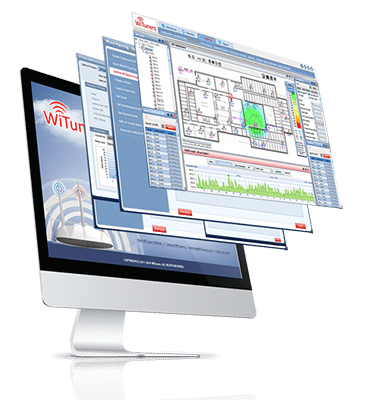 A WLAN plan with optimal performance provides more capacity and better performance, and requires less maintenance while those poorly planned WLANs cost dearly in maintenance and loss in productivity. The time has long passed that an engineer can plan a WLAN manually with his experience due to the complexity and scales of today's business WLANs. There are so many factors affecting the performance of a WLAN that even a WiFi planning software is not necessarily able to generate optimal WLAN plans, just for a single obvious reason:  optimizing a WLAN is mathematically a NP problem where the time it takes to come up with an optimal solution increases with the number of APs exponentially. As a result, such WiFi planning software often takes a short cut by excluding many affecting factors in generating a plan. Such a plan is certainly sub-optimal, which is usually the root cause of many WLAN issues business WLANs facing in daily operation.
There are already quite a few WiFi planning software on the market. These conventional WiFi planning software help WiFi designers and installers to create deployment plans for AP installation. The resulting plan often gives the number of required APs, their placement and configurations. Tens of thousands wireless networks have been deployed using these plans, and they seem to work OK, until recently. What has changed?
Wi-Fi planning, performance auditing, and tuning has always been difficult, complex, time consuming, and expensive, largely due to the complex nature of Wi-Fi technologies.
Conventional WiFi planning software are simplified by focusing on Wi-Fi connectivity and coverage, without taking an optimal WLAN performance into consideration. The resulting deployment plans are often sub-optimal. In the past few years, sub-optimal WLANs built with conventional WiFi planning software seem to have survived without too much end user complaint mostly because network load was typically light.
Unfortunately, such a grace period for WiFi planning software is gone for good. Today, with more and more Access Points deployed, more and more bandwidth consuming video applications running and more and more Wi-Fi enabled client devices such as tablets and smart phones, a sub-optimal WLAN is no longer tolerable. Sub-optimal WLANs bottleneck WLAN owners' productivity when WLAN is mission critical to them. They lower customer satisfaction rate due to poor WLAN performance; They cause excessive IT maintenance cost. The same is true for network operators looking for ways to off-load their cellular networks. Is there a solution?
WiTuners WiFi planning software, fully backed by its Advanced Wi-Fi Tuning Technologies, provides with a suite of WLAN optimization software as a solution to keep up with these changing requirements and traffic patterns and addresses the ever increasing demand for robust and predictable WLAN performance. The key lies in WiTuners' unique capability of creating optimal plans. The result? Optimal deployment plans that provide more capacity and require less maintenance. When a deployment plan for wireless networks is augmented with real-time inputs from network data and site surveys, it becomes a living representation of the real-world WLAN and the RF environment around it, which never falls out of date. Before you install, change or move any WLAN devices, you can test it in our WiFi planning software, and see the impact your proposed changes would have on real-world performance, capacity and coverage. As a result, WLAN deployment plans created with our WiFi planning software provides more capacity and require less maintenance.