Adding, Positioning, And Shaping Walls
A new wall can be added to the current deployment floor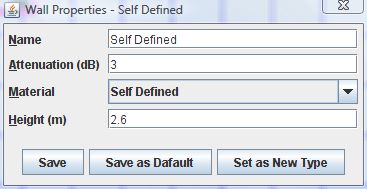 A new wall can be added to the current deployment floor at any time by dragging the Add Wall icon down from the top Menu Bar onto the Deployment Window.

Once a wall is added to the Deployment Window, you can move the wall around on the current deployment with the mouse.
A right click on any part of a wall opens the WALL menu (shown below), allowing you to view and set its properties,  delete it from the current deployment or make a copy of it. Properties of a wall have been selected from a set of wall types. The Undo and Redo operations make it easy to make walls.
To manipulate a wall:
Left click on a straight portion of the wall to drag it in an x,y direction.

Click and drag on an endpoint to reposition that endpoint relative to the balance of the wall.

Click and drag on a midpoint to reposition it relative to the two endpoints.

Click and drag on an open circle point to split a line, creating a new midpoint which can in turn be manipulated as any other midpoint.