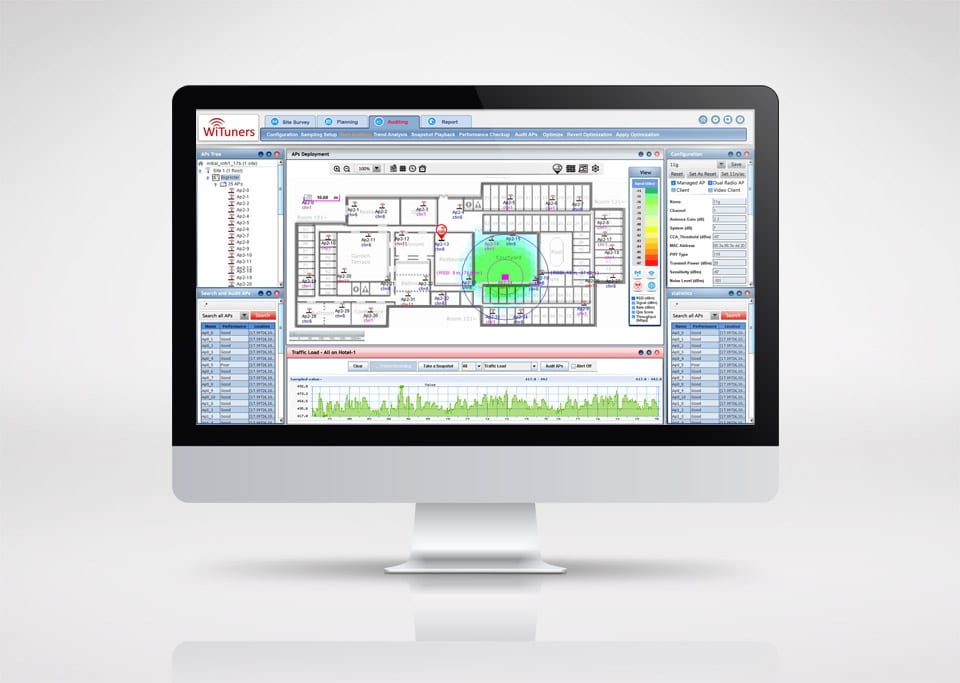 How do I create the necessary WiFi planning data for a good WLAN deployment?
WiTuners offers a variety of tools to quickly built up the WiFi planning database required for accurate WLAN performance analysis and optimization: importing existing RF plans, a customizable deployment area definition and automatic peripheral wall generation, drag and drop placement of walls and access points, group operations on walls and access points, etc. The data can it can be stored in CSV format for later re-importing.
I have relevant WLAN data obtained with a third party WiFi planning tool – does WiTuners allow me to import that information?
Yes, WiTuners can import a variety of planning data from other sources; the preferred data format is XML; images may be in PDF, JPG or PNG format. Ideally the imported data should contain the floor areas, the locations and thickness of walls and other objects, the location and MAC addresses of access points and their properties and RF parameters. The imported data can always be updated manually and it can be stored in CSV format for later re-importing.
My network needs a significant upgrade, do I have to start with a new deployment plan and rewire my whole building?
WiTuners provides an Upgrade WLAN feature. This takes the existing access point locations a starting point and adds access points as necessary to meet the performance objectives specified. This method avoids the need to rewire a whole building by preserving the locations and therefore the wiring of existing access points.
Does WiTuners allow me to see different floors simultaneously?
Yes, every window with a partial view of a deployment can be detached from the main window – this allows multiple floors to be viewed in real time. The number of views is limited by the display area only.